---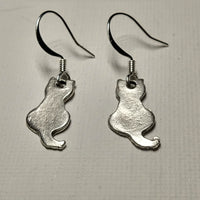 Meow....Everyone has a cat lover in their life.
These are solid molded and cast pewter earrings. They are and shaped and polished.
Theese earrings are small, 10mm and lightweight.
Pewter is a wonderful alternative to sterling silver. It is hypoallergenic and does not tarnish. It only needs an occasional polishing.